PLM 2005 Conference Dinner
Information on the Venue
PLM 2005 Conference Dinner and Dance will take place at Kórnik Castle. Before the actual dinner, a sightseeing tour is planned at the castle. Transportation will be supplied to take participants to and from Kórnik. The buses will depart from in front the WSJO building in 5 Piekary Street on Saturday 23 April at 19.00. Below is a short note about the history of the castle.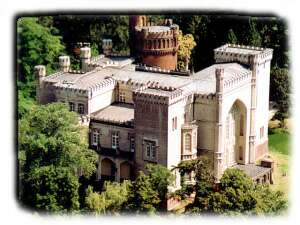 Kórnik Castle, situated in a beautiful park and surrounded by a moat, is endowed with a 19th-century architectural array. Its beginnings go back centuries. During the Middle Ages Kórnik belonged to the Górkas, a prominent aristocratic family from Greater Poland. It is assumed that in the 14th century the Górkas built a quadrilateral wall with an entrance gate, a round corner tower, and an internal dwelling-house. In 1574, hurrying for his coronation in Cracow, Henry de Valois, the newly elected King of the Polish-Lithuanian Commonwealth, was welcomed at Kórnik. The latter became the property of the Działyńskis in the later part of the 17th century, and it was to remain in their hands until 1880. The castle was subsequently rebuilt in the second half of the 18th century in the baroque style. The last reconstruction of the castle took place in the first half of the 19th century. This was accomplished by Count Tytus Działyński (1796-1861), a staunch Polish patriot, participant in the November 1830-1831 Uprising in Russian Poland, collector of rare and precious books and manuscripts, editor of Polish historical records and the founder of the Kórnik Library. The Count, preferring a fashionable English neo-Gothic style, gave his castle a picturesque fortified character. The work of reconstruction began in 1843 and lasted until 1861, when Tytus Działyński suddenly died in his sleep.
In his restored castle the Count had created a comfortable family residence where he kept his precious collections of old prints, maps, manuscripts and national relics. The preservation of such material was of great significance in the 19th century when, as a result of the partitions of Poland by Russia, Prussia and Austria in the years 1772-1795, the Poles found themselves deprived of their own statehood.
It was the policy of Tytus Działyński to use in his works for reconstruction local craftsmen, chiefly from Kórnik, but also from Poznań and the surrounding area. The interiors were provided with new decorations, full of historical meaning, consisting of ornamental wooden portals, stuccoes and floors. The Vestibule, elegant Dining Room and Moresque Hall were covered with a wooden ceiling, lacunar in the first two. Some halls have ceilings decorated with stuccoes, others possess ogival vaults. Former dwelling rooms (e.g. the owner's apartment, mistress's of the house, Drawing-Room and Dining Room) are located on the first floor. On the second floor, there are large exhibition hall, the Library and former guestrooms, now used as studios.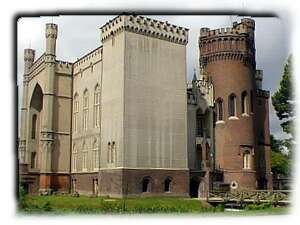 Originally written by Barbara Dolczewska, translated by Adam A. Hetnal.
Adapted for PLM website by Dawid Pietrala, and Grzegorz Michalski.
Last updated: 16 March 2005.

PLM 2005 Home Page